AB ROLLER WHEEL ROLLOUT WORKOUT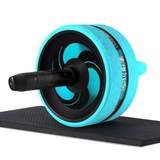 AB ROLLER WHEEL ROLLOUT WORKOUT
The traditional exercises for abs sometimes don't do the trick. When training your abdominal area it's important to use different movements for you to hit different parts, and different exercises is the key.
With our Ab Roller Wheel Rollout Workout you'll be able to hit all the abdominal muscles in one single rollout. Simply place your hands on the strong ab roller and rollout in front without touching the ground and then roll back up. Do this movement with the ab wheel for multiple sets and rollouts.
The ab wheel should be used as part of your exercise routine, the ab wheel will fast track abs coming through.
Features:
WIDE:

 

The ab roller has been designed wider than any other ab roller, why? because most struggle with balancing on an ab wheel than the actual roll out of the ab roller, this design ensures you get the maximum workout in
STRONG:

 

The ab wheel rollout is made from strong ABS and stainless steel, you'll never need to worry about the ab roller workout snapping when holding onto the rollout position
BEST WAY FOR ABS:

 

The ab wheel workout is one of the best ways to make your abdominal area stronger than the normal way of sit up and leg raises. The best ab roller is shown to produce faster results as the abdominals are under pressure for a longer period when rolling out with the ab roller 





Specifications:
Size: 33 x 16.8cm
Material: ABS + EVA + Stainless Steel Tube + Foam